Improve retirement outcomes
Studies show retirement accounts can grow up to 75% larger when professionally managed by financial advisors.1 Pontera enables advisors to securely and compliantly provide management of 401(k), 403(b), and other defined contribution plan accounts as part of a holistic portfolio strategy.
Informed advice and management
Provide prudent advice with complete plan information. Pontera offers an intuitive interface for rebalancing within plan accounts. Using Pontera, advisors can compare fees and historical returns, set target allocations, and set alerts for when those allocations drift outside of customized boundaries. Pontera also integrates with many portfolio performance reporting and billing solutions so you can deliver consolidated portfolio insights to your clients.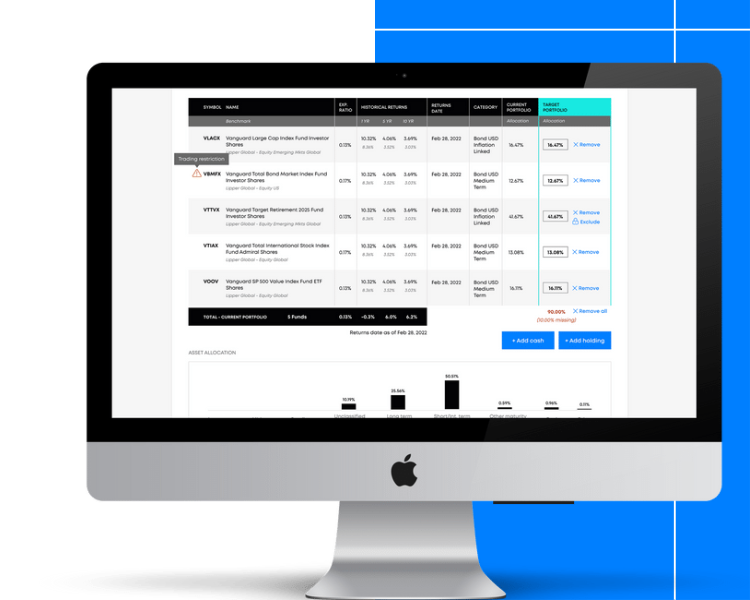 Strengthen client
relationships
Over 60% of investors are looking for more help with their retirement accounts1, and advisors who integrate Pontera into their practices report adoption rates of up to 80% among eligible clients. By partnering with Pontera, advisors can employ cohesive rebalancing and tax strategies across their client portfolios. Improve your clients' confidence and satisfaction with proactive management during volatile markets while working to deliver long-term results.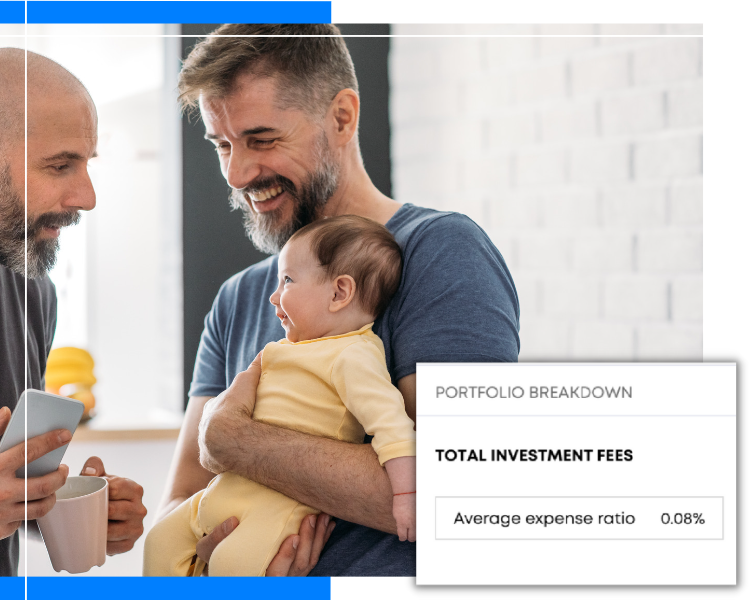 Comprehensive plan analysis
Pontera simplifies the analysis of plan retirement funds by displaying comparisons of fund options, fees, and allocations in standard view, regardless of the custodian. The platform helps eliminate the risk of human error, such as mistaking a Collective Investment Trust (CITs) for a publicly available fund. Advisors can easily find plan prospectus information with a click of a button to make recommendations that are in the best interest of their clients.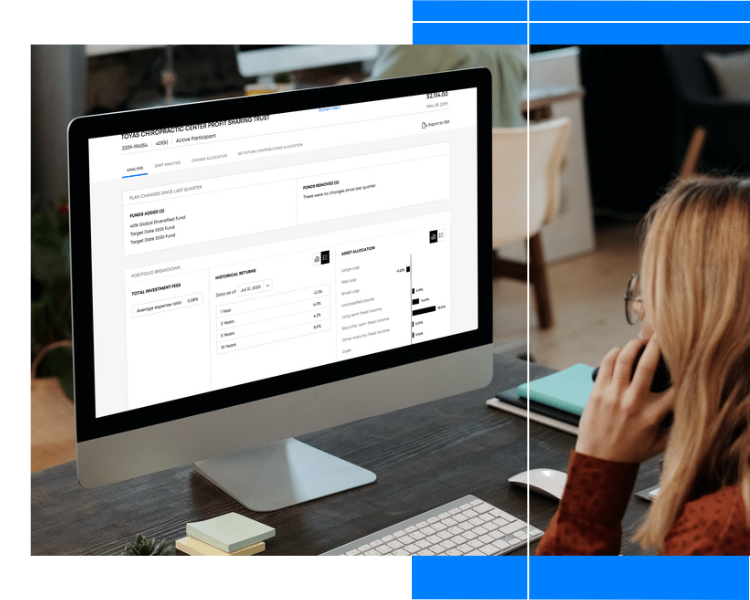 Maintain compliance with regulations that protect clients
Pontera helps advisors stay in compliance with regulations that protect their clients, particularly in the realms of account custody, supervision, and level-fee billing. The platform never shares client login credentials and purposefully prohibits client account access, disbursements, transfers, and beneficiary changes. Pontera's supervision module annotates all advisor account reviews and rebalances, creating a clear, downloadable audit trail of activities. Finally, when it comes to IRA rollovers, clients can be rest assured decisions are made in their best interest now that their advisor has the ability to provide the same level of service, in plan (removing potential conflict of interest as outlined in DOL PTE 2020-02).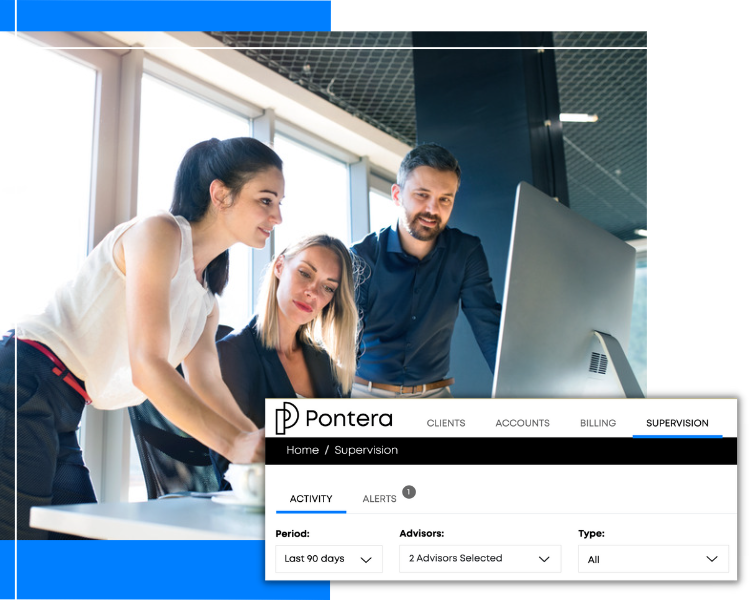 Assist more clients
The median American family holds more than half of their assets in retirement funds1 and may not know professional advisory is an option for them. By partnering with Pontera, your firm can provide a clear path to helping retirement savers align these investments with the rest of their portfolio and retirement goals.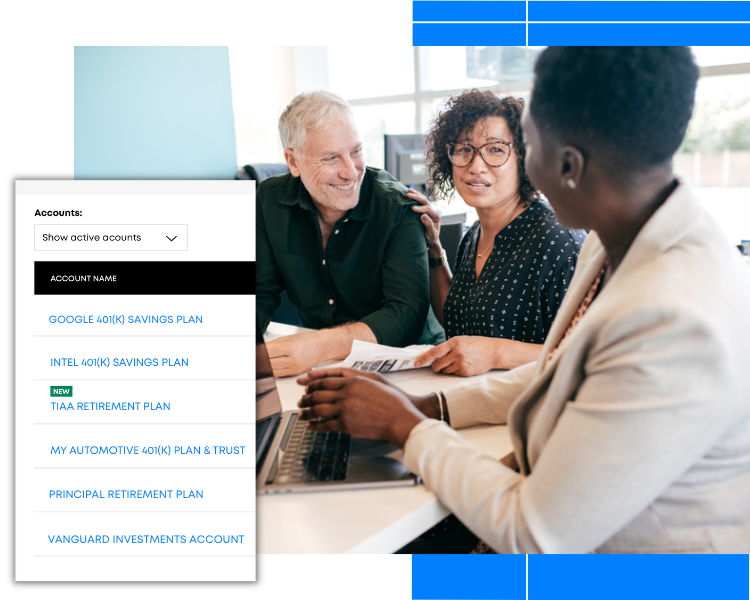 Safeguard client data
With Pontera, financial advisors can eliminate poor cybersecurity practices such as storing client account credentials, accessing client accounts on custodian websites, or requesting sensitive account documents via email. Instead, the platform enables secure, client-permissioned account management without ever providing client credentials to the advisor. Pontera is SOC 2 certified by EY and employs bank-level encryption, security architecture, and regular pen testing to ensure that client data is protected. To provide ultimate peace of mind to the advisor and their clients, Pontera offers a Client Cybersecurity Pledge.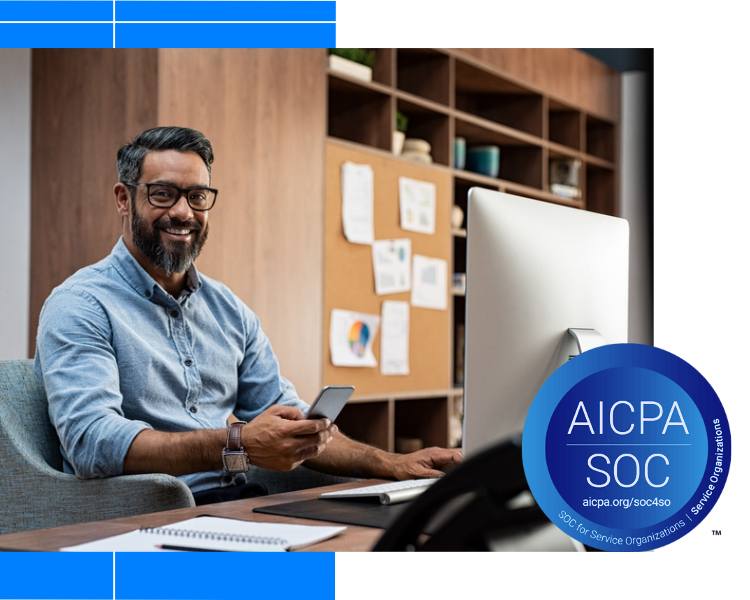 Manage without custody
Provide full in-plan management to client accounts held off of your custodian while using a platform that does not allow you to take custody. Provide the value of custody without the need for surprise audits.
Provide holistic planning
Bring more of your clients' accounts into one cohesive strategy. Pontera allows you to monitor and rebalance 401(k), 403(b), and other held away accounts to ensure they are meeting your clients' needs.
Easy asset location
Optimize tax strategies to grow client wealth. You can allocate your clients' investments across taxable and tax-deferred accounts more quickly and efficiently by using Pontera for in-plan changes.
Consolidate reporting
Provide more insight to your clients while simplifying billing. Pontera integrates with Performance Reporting software so advisors can show their clients more of what's happening in their portfolio.
Provide peace of mind
Access the ability to rebalance and monitor retirement accounts when it matters most to your clients, and improve client satisfaction by maintaining control during volatile markets or life changes.
Reduce compliance concerns
Improve compliance with regulations while limiting custody and rollover challenges on held away assets. Using Pontera's audit and supervision capabilities, you can help safeguard client assets and remain compliant.
Learn how Pontera can help you and your clients